This post is also available in: 简体中文 (Chinese (Simplified)) 繁體中文 (Chinese (Traditional))
Would you like Living-at-Home Medical to be your primary care doctor?
Give us a call at 718.865.9333. If you have a referral, please fax it to 888.972.7923.
Before your first appointment…
Click the button to download the intake forms
After you fill them out and sign them, please fax them to 888.972.7923 or call the office at 718.865.9333 for more information
Some frequently asked questions…
What services do you provide?
admin
2020-02-08T06:18:49+00:00
This post is also available in: 简体中文 (Chinese (Simplified)) 繁體中文 (Chinese (Traditional))
We provide both routine and urgent primary care medical visits for our enrolled patients. We specialize in house calls and do not have an office-based practice. We are a team made up of one physician, nurse practitioners (NPs), and a secretary and work closely together to serve your needs.
Services we perform regularly include:
patient care – including pain management, wound care, immunizations
family meetings – discuss goals of care, advance care planning
home-based testing

blood, urine, stool tests
Xrays
Ultrasounds, including venous doppler
EKGs, echocardiograms

referrals to home based care

home health care agencies – skilled nursing, PT, OT, speech therapy
home hospice
podiatry
orthopedics

orders for medical equipment and supplies, such as

hospital bed, wheelchair, hoyer lift, walker
bath seat, transfer bench, commode
nutritional supplements (ex: Ensure, Glucerna)
You can find more frequently asked questions (and answers) here.
Our service areas
Please note that we currently only serve clients in Lower Manhattan and Brooklyn.
Specifically, in Lower Manhattan, we serve patients below 34th Street, in ZIP Codes 10001, 10002, 10003, 10007, 10009, 10010, 10011, 10012, 10013, 10014, 10016 (southern half below 34th Street), 10038.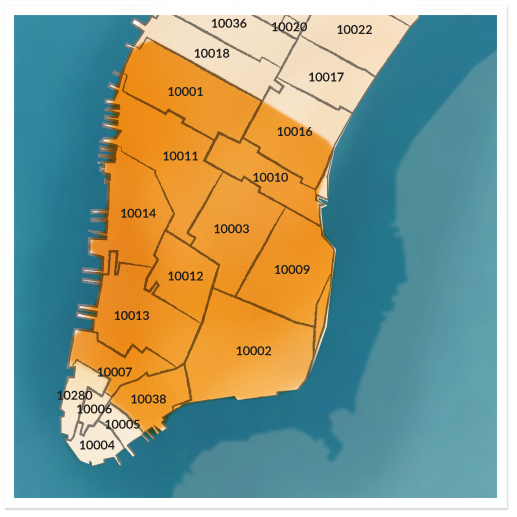 In Brooklyn, we serve the neighborhoods of Sunset Park, Borough Park, Bay Ridge, Dyker Heights, Bensonhurst, Bath Beach, Gravesend, Mapleton, Sheepshead Bay, specifically ZIP Codes 11204, 11209, 11214, 11219, 11220, 11223, 11224, 11228, 11229, 11235.
We are so touched by the kind feedback that patients and family members have posted on our patient portal. Here is an excerpt:
"Dr. Lee has been our family doctor for many years. She took care of my mom's needs and currently makes visits to my brother's home. Dr. Lee is a very kind person who takes the time to explain her findings. I highly recommend her."

Contact us
居家樂醫療 Living•at•Home Medical, PC
Mailing Address 郵寄地址: 
7105 3rd Avenue, #523,  Brooklyn, NY 11209.1308
Work 辦公室:718.865.9333
Fax 傳真:888.972.7923