This post is also available in: 简体中文 (Chinese (Simplified)) 繁體中文 (Chinese (Traditional))
Mission
Our goal is to provide the best medical care to chronically ill patients who have difficulty getting to a doctor's office and who wish to reduce/avoid hospitalizations. We speak English and Chinese (Cantonese / Mandarin) and offer personalized care in the comfort of your own home.
We focus on "patient /family-centered care" and do our best to help you achieve your health goals.
What we do
We provide you with:
home visits by a doctor and nurse practitioner, on a routine and as-needed basis.
high quality care for homebound disabled patients, frail elders and those at end of life.
detailed geriatric-focused evaluations.
coordination of care with your family, paid caregivers, specialists, hospital staff, and other health care professionals.
treatment of pain and other symptoms (palliative care).
personalized care based on your goals.
end-of-life care at home.
on-call telephone service 24 hours a day, 7 days per week (urgent calls).
We work with other agencies to provide you with (based on eligibility and need):
a hired caregiver.
a visiting nurse.
a physical or occupational therapist.
lab tests, X-ray, EKG, and ultrasound at home.
medical supplies and equipment.
podiatry service.
hospice care.
Dr. Maria Bun-Ching Lee
Dr. Lee has been making house calls to frail homebound elders since 1995. She is passionate about providing culturally sensitive home-based geriatrics and palliative care. As a daughter and granddaughter of Chinese immigrants, she personally encountered challenges of seeking medical care for her late maternal grandmother. Dr. Lee is inspired to improve health care for under-served communities, especially the chronically ill and older monolingual immigrant Americans. Her goal is to provide personalized and culturally sensitive care in the home setting to those who who have limited access to medical care, thus reducing the need for frequent hospitalizations and/or nursing home placement.
Dr. Lee began practicing house calls at St. Vincent Hospital's Chelsea-Village Program from 1999 to 2010, primarily serving the Chinese and Latino American homebound elders of Manhattan's Chinatown and the Lower East Side. After St. Vincent Hospital's closure, she continued to serve these communities under The Mount Sinai Chelsea-Village House Call Program (2010 to 2012), Medical House Calls. PLLC (2012 – 2013), and more recently, Jennan Comprehensive Medical, PC / Priority House Calls (2013). Dr. Lee subsequently opened her own practice.
The name "Living-at-Home Medical" commemorates the "Chelsea-Village Program/ Living-at-Home Program" founded by the late Dr. Phillip W. Brickner.
Dr. Lee primarily sees patients in lower Manhattan and lower Brooklyn.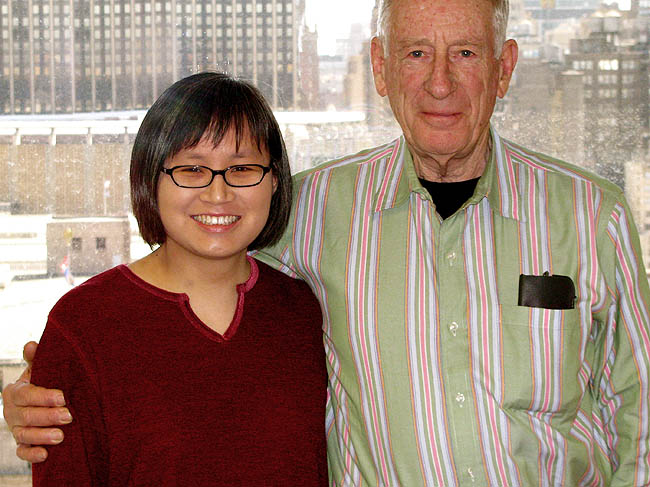 Dr. Maria B. Lee and Dr. Philip W. Brickner (founder of the "Chelsea-Village Program" and the "Living-at-Home Program"). Photo taken in 2010.
We are so touched by the kind feedback that patients and family members have posted on our patient portal. Here is an excerpt:
"Dr. Lee is one of the best primary care doctors I've known thus far. She is a very thorough and considerate doctor. I would highly recommend her."

Contact us
居家樂醫療 Living•at•Home Medical, PC
Mailing Address 郵寄地址: 
7105 3rd Avenue, #523,  Brooklyn, NY 11209.1308
Work 辦公室:718.865.9333
Fax 傳真:888.972.7923